How to Find and Reach Out to Recruiters on LinkedIn was originally published on uConnect External Content.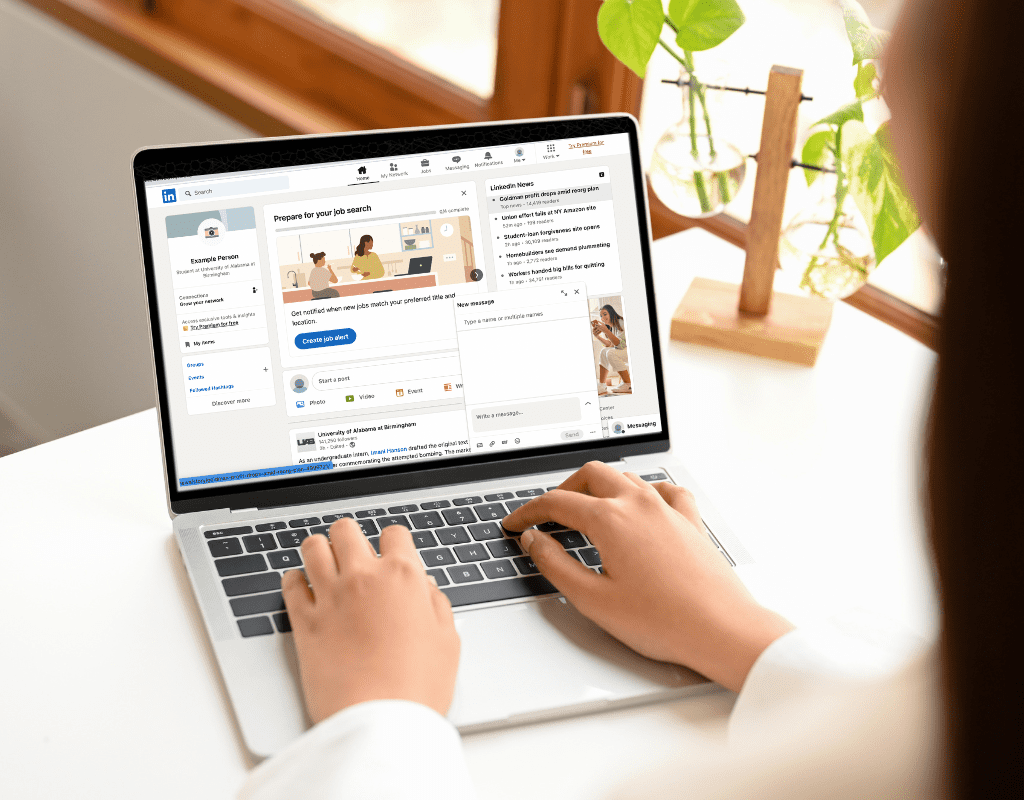 While recruiters work to help companies fill their open roles, they can also help you — the job seeker — connect with roles you might be interested in and a good fit for. According to Jobscan, 94% of recruiters use LinkedIn to find and vet candidates. So, how can you find them on the platform and reach out to a recruiter on LinkedIn? In this guide, we'll cover:
How to Find a Recruiter on LinkedIn
If so many recruiters use LinkedIn, they must be easy to find, right? Yes and no. LinkedIn's features and search make it easy to find people with a "recruiter" title, but you might have to do a little extra searching to ensure you're reaching out to the right one.
Look at the Hiring Team
Sometimes, a "meet the hiring team" section will be under a company's job description on LinkedIn. This team might include the hiring manager and the recruiter. 
>>MORE: Hiring Manager vs Recruiter: What's the Difference?
If you don't see someone with the title "recruiter," look for someone with "recruitment," "talent acquisition," or "staffing" in their title. These are often alternative titles for recruiters.
Get Savvy With Searches
Find an Internal Recruiter
If you're looking for an internal recruiter — someone who works for a specific company and hires only for roles within that company — you can search for them on the platform if they're not in the "hiring team" section. There are a couple of ways you can do this:
Look under the company's "people" section. You can search for "recruiter," "recruitment," "talent acquisition," and "staffing" under a company's people page to find recruiters who work there.
Use general search and type "recruiter AND company name." Then, filter your results by people. If you don't see anyone who matches, try searching for the synonyms "recruitment," "talent acquisition," and "staffing" with the company name.
At larger companies, you may find there are dozens of recruiters. As a result, you might need to narrow your search further to find recruiters hiring for specific roles you're interested in. For example, if you're looking for software engineering roles, you'll need to look for a technical recruiter.
Finding Other Recruiters
Not every recruiter works for a specific company. Some recruiters work for recruiting agencies. Companies hire recruiting agencies to outsource their recruiting work; these recruiters aren't loyal to one company but rather help recruit for roles for multiple companies. This means they might know of open roles in various companies that might be a good fit for you.
To find other recruiters:
Search for "recruiter OR recruitment OR headhunter OR talent acquisition OR staffing" in your LinkedIn search bar. Searching for these titles ensures you'll find recruiters who may not have the conventional "recruiter" title.
Filter for "People."
Select "All filters" to narrow your search. You can narrow your search by location, industry, school, and even past and current companies the recruiter has worked for. 
Make Yourself Noticeable
Another way to get recruiters' attention is to have them notice you first. Recruiters often look for candidates on LinkedIn through targeted searches. If your profile matches, they may reach out to you first.
How can you make yourself noticeable? Here are a few ways:
Add a headline that summarizes your experience and/or career goals
Choose a professional photo
Use a professional summary for your "about" section, including keywords in your industry
Add relevant experience
Feature relevant certifications or courses
Add a link to a portfolio or personal website
Add an "open to work" banner (and select whether you'd like your whole network or only recruiters to see it).
>>MORE: Learn how to upload or add your resume to LinkedIn.
"By optimizing your LinkedIn profile with keywords, your chances of appearing in recruiters' search results will increase," Antoine Boquen, CEO and co-founder of Horizons, an HR management platform, says. "They'll be able to locate you and determine you possess the necessary abilities and expertise for the position. This is the ideal scenario for your job search: instead of you needing to approach recruiters, they'll come to you."
How to Reach Out to a Recruiter on LinkedIn
Why Should You Reach Out to a Recruiter on LinkedIn?
Unfortunately, reaching out to a recruiter on LinkedIn doesn't guarantee you'll have a leg up in the hiring process. However, the right connection with a recruiter can help you land an interview or help you find another role you're a great fit for down the line. 
Get noticed by top recruiters
Explore Forage's free virtual work experience programs.​
What to Say to a Recruiter on LinkedIn
Sending a Connection Request
When reaching out to a recruiter, it's best to keep it "short and sweet," Matthew Warzel, certified professional resume writer and former Fortune 500 recruiter, says. "They are busy-bodies, usually juggling multiple openings at a time and speaking with tens, sometimes hundreds of candidates each day!"
You'll especially need to be short and sweet when asking them to connect on LinkedIn, as you have a 300-character limit. Quickly introduce yourself, share a little about your experience, and express your interest in the roles they're recruiting for. For example:
After They've Accepted Your Connection
Once you've connected, you can expand on your experience and interest in a second message.
"I usually recommend avoiding sending messages like 'hi, can you find me a job?'" Daniela Herrera, director of recruitment operations and ED&I at R/GA, says. "Even if the recruiter would like to help you out, they don't know anything about you at that stage. It will be very difficult for them to know what's the best role for you. A better approach would be to send a clear and short note explaining who you are, the role you're interested in, and the link to the job you'd like to apply for. And if you have a resume or website you'd like them to see, don't forget to include that too!"
If you're interested in a specific role, you can ask about discussing that role with them. If you're looking to build a connection or are interested in multiple positions, you can ask if they have any available roles that fit your experience or if they'd like to speak with you further on the phone. For example:
When you start talking to the recruiter, "be professional and courteous but also savvy – not all recruiters are the same," Jen Emmons, senior talent strategist at Carex Consulting Group, says. "Ask questions up front to understand what the process is, the organizations they partner with and what to expect. In addition, know what you're looking for. This helps the recruiter streamline and contact you with the opportunities that most align with your preferences." 
>>MORE: Ace a phone interview with Common Phone Interview Questions (and How to Answer).
When to Follow Up With a Recruiter
Unfortunately, there are times you'll reach out to a recruiter and won't hear back. That's okay — not all recruiters are responsive to every LinkedIn message. Sometimes, they might not have any roles you're suited for at the time.
If you haven't heard back after reaching out about a specific position, you can follow up after a few business days to restate your interest. For example:
If you're looking to make a connection, you can engage with their LinkedIn content (if they post regularly) and make a follow-up request asking to introduce yourself like this:
Regardless of why you're reaching out to the recruiter, "ensure all your messages are professional and free of typos and grammatical errors," says Kimberley Tyler-Smith, executive at Resume Worded, a career tech platform that helps job seekers. "This is one case where it pays not only to be professional but also friendly and welcoming — you don't want them to think of your application as spam!"
Keep building your professional skills with Forage's personal development virtual experience programs.
Image credit: Canva
The post How to Find and Reach Out to Recruiters on LinkedIn appeared first on Forage.