How to Use ChatGPT in Your Job Search was originally published on uConnect External Content.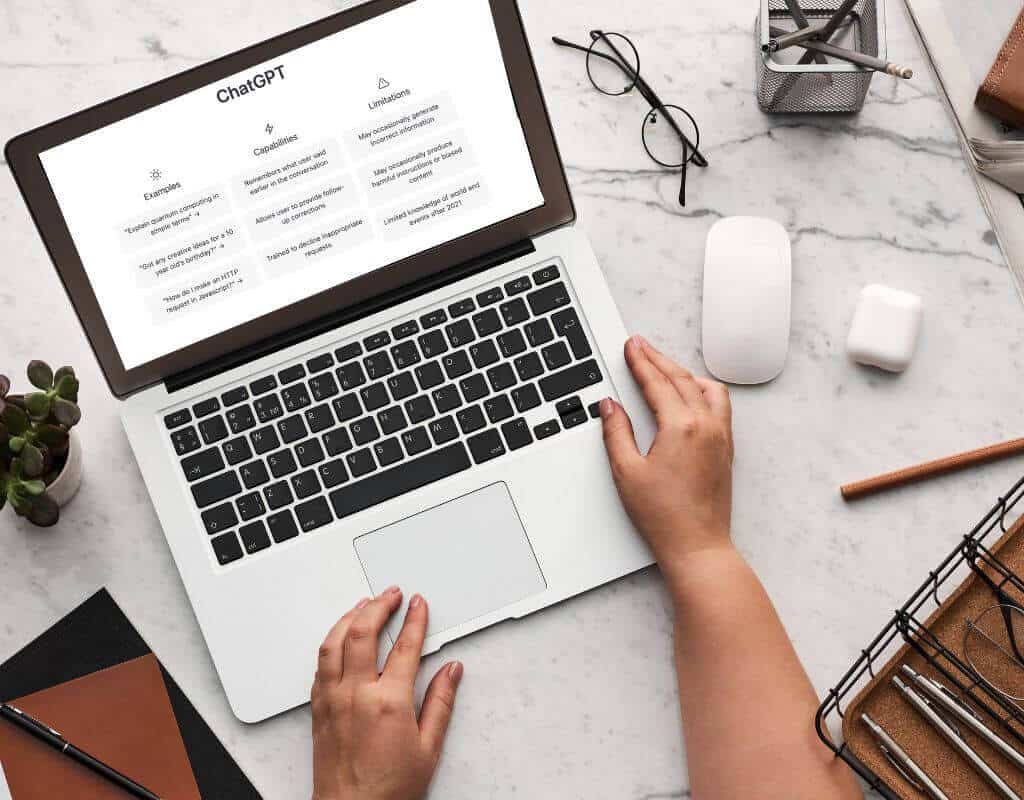 ChatGPT is an artificial intelligence (AI) chatbot that's taking all corners of the internet by storm. Some use it to dispute medical claims or help them solve complex coding problems. Others have already banned it from schools, worried the bot will negatively affect learning if students rely on it to write their work. But can you use ChatGPT in your job search? Is there a way to hack the process by using this new AI? While it can be a helpful way to gather ideas, it shouldn't be your one-stop shop for landing a job.
How Can You Use ChatGPT In Your Job Search?
We started by asking ChatGPT itself.
ChatGPT's response is focused on using the tool as a sounding board for job search ideas and preparation. It makes it clear that you should never use what it says verbatim — even if you're asking it to write a resume or cover letter for you.
>>MORE: How to Write an Entry-Level Cover Letter (Example)
The AI makes a pretty honest assessment of its boundaries: it's best for ideas and starting sentences, not for final products or major career decisions. So let's break down each of its main ways to use it in the job search.
Using ChatGPT to Explore Jobs
ChatGPT is far from LinkedIn or other popular job search sites, but, as it says, it can be a tool to help you "explore" opportunities you might be interested in.
>>MORE: A Beginner's Guide to LinkedIn
Looking for Opportunities by Interest
Let's say you have no idea what job you should do. We started by listing two main interests and asking ChatGPT to come up with job titles:
What's great is that the bot also gives you short descriptions of each job title. However, not all of these titles take into consideration both interests to find the intersection of them. Instead, the bot lists jobs that apply to one of the two interests, not both. We then tried asking for jobs with interests that were more closely aligned:
This time, there are a few jobs, specifically the "technical account manager," "growth hacker," and "marketing technologist" roles, that allude to both technical and marketing interests.
Overall, ChatGPT can be a valuable source for generating job titles and career paths if you're unsure where to start. But should it be your only source? Not at all. Once you've generated some titles, it's best to look them up on job boards like LinkedIn to look at job responsibilities, industries they're common in, and similar roles.
>>MORE: 6 Ways to Stop Saying 'I Don't Know What Job I Want'
Looking for Opportunities by Skill Set
This time, we tried exploring job titles by inputting a specific skill set:
When we gave ChatGPT a basic skill set, it returned a basic set of jobs associated with that skill. So, again, if you're stuck and need help deciding what job titles to look into, this may be a helpful place to start. But what if you're looking for something a little more original? We tried again with two more specific skill sets:
ChatGPT lists some more obscure job titles and clearly ties in how both data analysis and social media skills come into play.
>>MORE: Learn the skills you need for a career in data analytics with Forage data & analytics virtual experience programs.
Looking for Opportunities by Company
Maybe you know what career you want to pursue but don't know the industry or company. We tried asking ChatGPT for advice on companies to apply to:
While we expected a list of companies, ChatGPT returned a list of various industries for the finance career path, some of them with example companies in their description.
>>MORE: Finance Career Path: Is it Right for You?
This is a great starting point if you're unsure what opportunities are available. The bot gives you some helpful examples of what kinds of companies to look for and some of the biggest names in each category. If you're interested in this career path, you could use this list as a jumping-off point for further research.
We tried again with a more specific job in the industry, a banker:
ChatGPT uses the same format as the general industry response. But, again, ChatGPT does not list many companies except a few in its examples; instead, it provides the different types of companies you could work for.
The best way to use ChatGPT in your job search as a "job site" is to use it as an exploratory tool. If you need help with what job titles are available to you or what industry you might be able to work in, it can give you some good basic ideas. However, it's important to remember that these ideas are basic and far from comprehensive. They're a good starting point. Then, it's up to you to take what you've learned and start researching further — with LinkedIn, job boards, company websites, or advice from career experts.
Using ChatGPT for Resumes and Cover Letters
ChatGPT can write resumes and cover letters for you, but it's not the best idea to plug in the position you're applying to and copy and paste its response. Not only does ChatGPT advise against using its answers verbatim, but sometimes its responses aren't 100% in-line with current career advice.
>>MORE: We Asked ChatGPT to Write Resumes and Cover Letters. Here's What It Got Right (and Wrong)
Can you still use ChatGPT to help with these elements of your application? Yes! The best way is to focus on specific aspects of your resume and cover letter. You'll want ChatGPT to help you generate ideas for these materials, not create a final product.
Brainstorm Strong Action Verbs
What sounds better: "Worked with" or "Collaborated"? Should you use "Made" or "Developed"? Strong action verbs can help you better demonstrate your achievements in bullet points on your resume and when explaining your experience in your cover letter.
ChatGPT has tons of ideas for you (so many we had to combine multiple screenshots!):
Choose the Best Resume Type for Your Career
There are multiple types of resumes, from chronological to functional to infographic resumes. So which one is right for you? We asked ChatGPT. The bot even explained what that type of resume includes and how to make it stand out.
>>MORE: 7 Types of Resumes: Which Is Right for You?
Learn What Skills to Include
The primary purpose of resumes and cover letters is to show the employer that you're the right fit for the role — mainly through the experience and skills you bring to the table. ChatGPT can help you understand what kinds of skills to highlight in both of these application materials.
What's especially helpful about ChatGPT's response here is that it includes both hard and soft skills and places the skills into the context of the position. Further, it considers that we input an "entry-level" role. It notes that these skills show you have a good foundation and are eager to learn more — which employers often look for in junior employees.
Showcase new skills
Build the confidence and practical skills that employers are looking for with Forage virtual work experiences.
Using ChatGPT for Interviews
We wanted to know whether you should use ChatGPT for interview advice, and the results weren't the worst, but they weren't the best either. Most of the time, ChatGPT gave general and OK, but not great, advice.
Rather than expect the bot to answer interview questions for you, you can use ChatGPT to ask specific questions about the interview process and get some ideas for how you might approach an interview.
Get a Sense of Common Interview Questions
You may be familiar with common interview questions like "what is your greatest strength?" or "why are you applying for this position?" but what about specific questions within your industry? ChatGPT can provide some answers: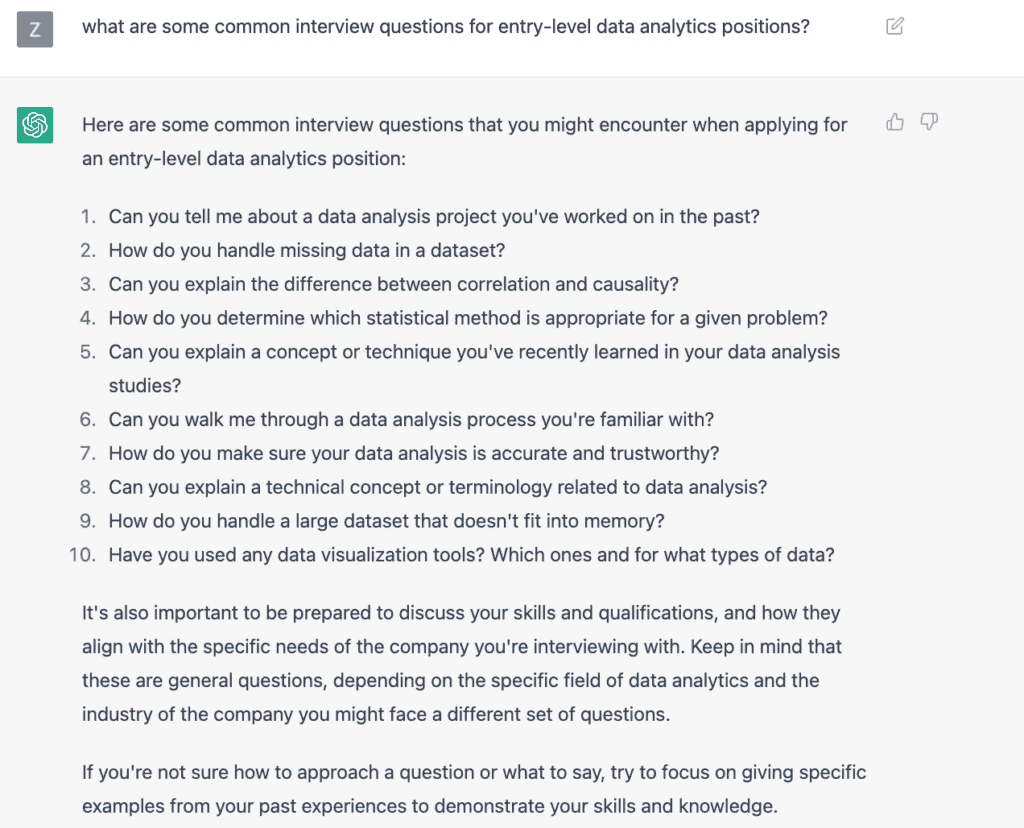 However, ChatGPT doesn't have intel on interview questions for specific companies. To get an idea of what questions a company might ask, you can look at company websites, where they may have insights on their careers page, or sites like Glassdoor with company interview reviews.
>>MORE: Want to know what it takes to get hired at popular companies? Check out Forage hiring diaries, where recruiters share hiring insights to help you nail the interview.
Learn What to Include in Your Interview Answers
While we know ChatGPT isn't where we should turn to get exact interview answers, it can be a helpful place to learn what kinds of things to talk about in your interview.
ChatGPT gives general interview tips here, like to discuss your education and work experience, but adds some specificity for the type of role we asked for. Of course, you should always refer to the job description to get a sense of what the company's specifically looking for — and to give you some talking points — but this can be a good place to start.
Get Intel on Interview Techniques
While ChatGPT's advice on how to answer specific questions can be hit or miss, the bot is knowledgeable on standard interview techniques, such as the STAR method: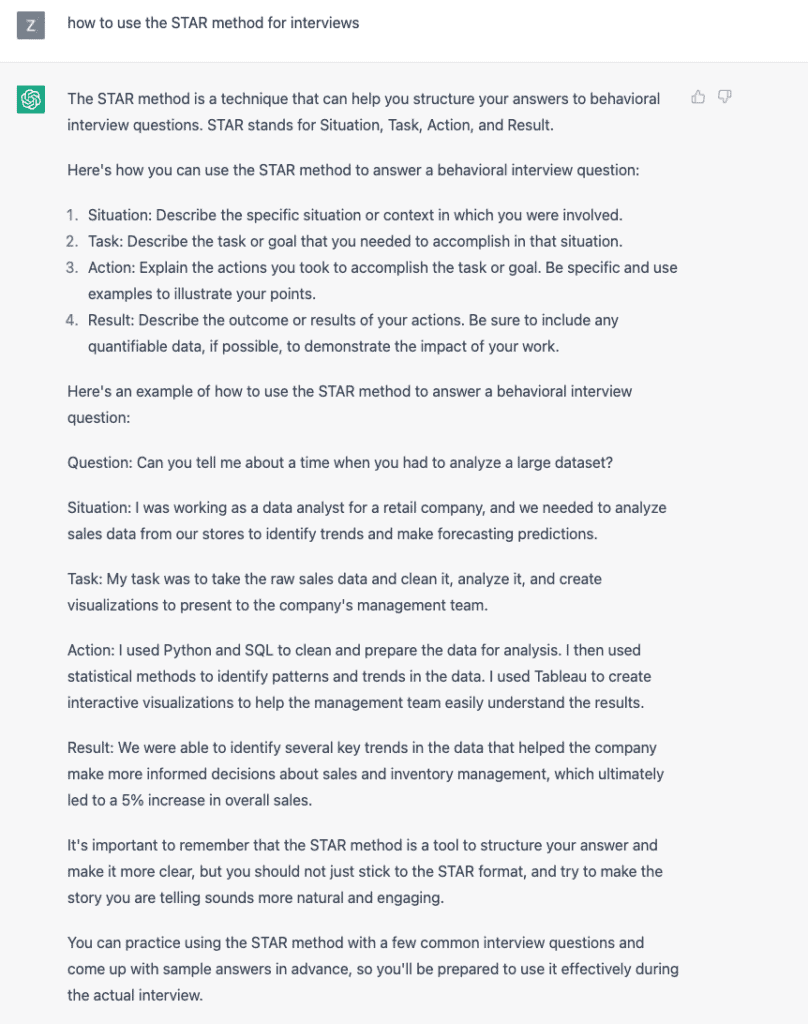 The response also includes an example answer to a common behavioral interview question. You can then use the framework and example answer to guide you when brainstorming your responses.
>>MORE: How to Use the STAR Method for Interview Questions
Using ChatGPT in Your Job Search: The Bottom Line
How can you use ChatGPT in a job search? The bot can be a great place to start if you're coming up empty regarding potential job titles, need help generating ideas for your resume, or want to know what interview questions to expect. However, that's likely all it should be: a launching pad before you look to expert career advice and job sites.
Find expert job search advice, including resume, cover letter, and interview tips on the Forage blog.
Image credit: Canva
The post How to Use ChatGPT in Your Job Search appeared first on Forage.