Guide to Working at Pfizer was originally published on uConnect External Content.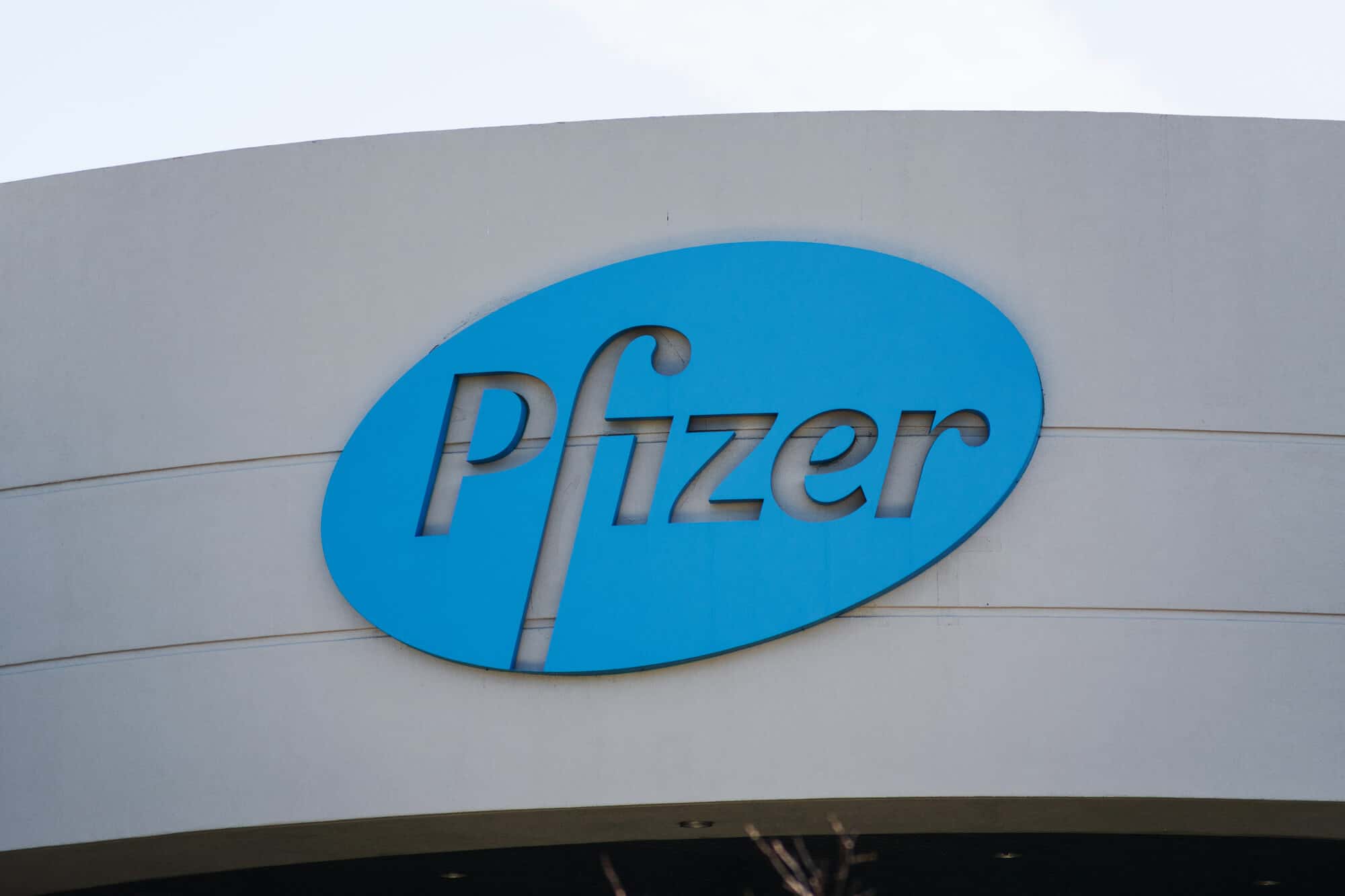 When you think of Pfizer, you probably think of one of a few blockbuster drugs the company has helped develop. And because pharmaceuticals is the company's core focus, many people working at Pfizer are, of course, scientists. However, taking a drug from concept to reality requires support from all types of roles and teams.
From marketing to logistics to plant safety, working at Pfizer isn't just about the medicine. If you're thinking about pursuing a job at Pfizer, this guide covers typical salaries, benefits, culture, interview processes, and more.
What Is Pfizer?
Founded in 1849 by cousins Charles Pfizer and Charles F. Erhart, Pfizer got its start producing a form of an antiparasitic called santonin. A shortage of calcium citrate (a key ingredient in santonin) during World War I forced the company to look for alternatives. That search led to a fungus that later helped Pfizer mass produce penicillin during World War II.
As penicillin became cheap to produce, Pfizer pivoted, searching for new drugs to distribute or develop. Over time, this led to the creation of popular and familiar medications like Viagra and Zoloft. And, of course, Pfizer partnered with BioNTech to help quickly develop one version of the COVID-19 vaccine.
Currently headquartered on 42nd Street in Manhattan, Pfizer develops and produces medicines and vaccines at 39 manufacturing sites around the globe. Pfizer products are sold in over 125 countries, generating approximately $76 billion in revenue (as of November 2022) and employing around 79,000 people.
>>MORE: Pfizer UK Molecule to Market Virtual Experience Program
Pfizer Jobs and Salaries
Pfizer offers jobs across a wide variety of titles. While many jobs are science-based, there are also plenty of opportunities in categories like sales, administrative, and operations. Additionally, Pfizer offers remote, hybrid, and fully in-person positions.
According to Comparably, the average annual salary (including base and bonus) across all job titles is approximately $120,550. However, this includes a considerable range of salaries when you look at job titles.
For example, a senior marketing manager makes about $251,000 per year, while an administrative assistant makes just under $50,000. That said, nearly 69% of employees feel they are paid fairly. So, how do Pfizer salaries break down across job titles?
Scientists
Scientists at Pfizer develop and test drugs that treat everything from rare diseases to common colds. Some of the job titles and approximate annual salaries for scientists are:
Associate scientist: $76,000
Senior scientist: $124,000
Director: $192,000
Business Operations
As a pharmaceutical company, Pfizer makes many data-driven decisions about their products. But they also use data to inform many other business strategies.
Analytics manager: $118,000
Business analyst: $89,000
Data consultant: $120,000
Sales
And, of course, Pfizer needs to market and sell its products to doctors, hospitals, and consumers. It could not do that without the sales team.
Account Manager: $90,000
Business development consultant: $65,000
District sales manager: $160,000
Finance
The finance department does more than make sure the bills are paid. This department helps Pfizer ensure the books are in order and helps senior leaders make sound financial decisions that contribute to the company's bottom line.
Accountant: $70,000
Business analyst: $93,00
Financial analyst: $88,00
Engineering
Most engineering roles at Pfizer are in software and development. These employees keep the company's internal computer systems running.
Data scientist: $147,000
Developer: $120,000
Scrum master: $113,00
Student and New Graduate Opportunities at Pfizer
Pfizer has nine professional development programs that target early-talent professionals. While some programs are for people at the MBA or Ph.D. level, there are a few specifically for undergraduates and recent graduates.
Pfizer R&D Rotational Program
The Pfizer R&D Rotational Program is a two-year program for STEM graduates who are traditionally underrepresented minorities: refugees, Black, Latino, Hispanic, and Native Americans.
Participants are hired as full-time employees and rotate through four different six month job rotations of their choosing. During each rotation, participants complete assignments and projects that help develop their business sense and technical skills. Participants also collaborate with others and have access to professional mentorship and coaching.
Showcase new skills
Build the confidence and practical skills that employers are looking for with Forage virtual work experiences.
Students can apply in the fall of their senior year. But if accepted, you must start in June, following graduation. Applicants must have (or will earn) a bachelor's degree in a life science (chemistry, biochemistry, microbiology, or biology), computer science, or data science and must have a GPA of at least 3.3. You can apply if you've already graduated as long as you don't have more than two years of full-time continuous employment post-graduation.
Breakthrough Fellowship Program
The Breakthrough Fellowship Program was designed to identify and mentor Black, African American, Latino, Hispanic, and Native American people into leadership positions at Pfizer with a goal of developing 100 fellows by 2025.
The program consists of five parts, and students must commit to completing all:
A 10-week summer internship as a rising undergraduate senior
Two years of full-time employment after finishing undergrad
After two years, a full-time, two-year MBA, MPH or MS statistics program (will receive a fully paid scholarship)
A summer internship between the first and second year of the MBA/MPH/MS program
A commitment to return to Pfizer after finishing the second degree
Digital Rotational Program
The Digital Rotational Program lasts two years. Participants rotate through various information departments, including information security, sales and marketing, or research and development. Participants rotate between four areas of interest, with each rotation lasting 6-12 months.
Applicants must have a bachelor's degree and at least a 3.0 GPA. They also must have no more than two years of continuous work experience. While any major is eligible, Pfizer prefers degrees in certain concentrations, such as:
Computer science
Engineering
Business
Supply chain
Life sciences
Communications
Pfizer Summer Growth Experience
The full name of this program is Pfizer's Summer Growth Experience Program: Impactful Internship for College Students, and was formerly the Summer Student Worker Program.
This U.S.-based program is for college students interested in a career path in the pharmaceutical industry. Student interns work on a specific project they are held accountable for, and their overall performance is evaluated against specific objectives (much like a real job).
Applicants must be at least 18 years old before the scheduled start date, have completed at least two years of undergraduate study, and have a minimum 3.0 GPA. Students must also be enrolled in an undergraduate or graduate program for the semester immediately following their summer program.
Students can apply for open internship roles across all Pfizer's job categories. This includes:
Clinical research: Work with M.D.s and Ph.D.'s to learn about clinical trials
Finance: Provide support in one of several financial business units and learn about things like budgeting, forecasting, or pricing.
General business: Learn more about project management.
Marketing: Work with marketing teams on health fairs, partnership events, or designing newsletters.
Science/lab based: Perform experiments in labs or manufacturing plants.
>>MORE: Explore Forage's Free Marketing Virtual Experience Programs
Pfizer Benefits
In addition to standard benefit offerings, one of Pfizer's more generous benefits is paid leave for new parents. They can take up to 12 paid weeks off for the birth or adoption of a child. Employees are also able to take up to two paid weeks when they act as a caregiver to a family member.
U.S.-based Pfizer employees give the overall benefits package a 4.3 out of 5-star rating on Glassdoor. Here's how the individual ratings break down:
Health insurance: 4.4
Vision: 4.4
Dental: 4.4
Life insurance: 4.3
Disability insurance: 4.3
Retirement plan: 4.4
Performance bonuses: 4.1
Working from home: 4.0
Paid time off: 4.3
Time off to volunteer: 5.0
Tuition assistance: 3.0
On Comparably, 77% of employees are satisfied with Pfizer's benefit offerings.
Pfizer Culture
When evaluating whether or not to work at Pfizer, it's essential to consider what employees say about working there.
On Comparably, 483 employees have rated Pfizer's culture. Overall, the company earned a B grade of 73 out of 100, with 70% of employees giving the company a positive review. Seventy-four percent of employees are excited to go to work every day, with 82% reporting they look forward to interacting with their teammates. A majority (62%) are happy with their work-life balance.
The MIT Culture 500 reports that out of 1,881 employees, the most frequently discussed cultural value is agility and the most positively discussed value is customers. Innovation and execution are also the most frequently and positively discussed values.
Find your career fit
Discover if this is the right career path for you with a free virtual work experience.
In addition to the bottom line, some of Pfizer's key performance indicators (KPIs) focus on people. Specifically, the company measures employee engagement, representation of underrepresented groups, pay equity, and opportunity parity.
Awards
Pfizer has four core values: courage, excellence, equity, and joy. These values guide how the company does business. And the commitment to these values is reflected in the company's culture, as evidenced by the many awards Pfizer has earned:
Forbes Top Employers for Diversity 2022 (#34)
Hispanic Association on Corporate Responsibility 2022 Corporate Inclusion Index
LinkedIn Top Companies 2022: Health Care (#24)
Glassdoor Best Places to Work 2022
Latino Magazine Best Places to Work for Latinos 2022
Forbes Best Employers for Women 2022
Newsweek America's Most Responsible Companies 2022
Internal and External DEI Efforts
In addition to the core values, Pfizer is also committed to diversity, equity, and inclusion across the entire business.
Pfizer plans on increasing hires at the vice president level and above for traditionally underrepresented groups. By 2025, it plans on having 47% of women globally, and 32% of minorities in the U.S. fill these roles.
By 2020, Pfizer had increased women at the VP and above level to 38% (up from 5% in 2019), and minority representation to 22% in 2020 (up from 2% in 2019).
Externally, the company is also committed to working with diverse suppliers. The company tries to work with companies that represent Pfizer's diverse patient base and employees. This means making an effort to work with companies owned by:
Minorities
Women
LGBTQ+
Disabled
Veterans
Pfizer is also committed to working with small businesses owned by disadvantaged people, disabled veterans, or those located in a historically underutilized business zone (like Indian reservations).
Inclusion Groups
Pfizer has multiple colleague resource groups (CRGs) at each workplace. While not all groups are at all locations, they are open to any employee. Each group is designed to help historically marginalized people feel more included and give them access to professional development they may otherwise miss out on:
Global Asia Alliance (GAA)
Global Black Community (GBC)
DisAbility
Pfizer Latino Community
Out Pfizer Employee Network (OPEN)
Veterans in Pfizer (VIP)
Pfizer Women's Resource Group (PWR)
In support of the CRGs, Pfizer has also partnered with several external organizations, including:
ESG Efforts
In addition to how Pfizer treats its people, the company is also committed to helping the planet. As part of the yearly environmental, social, and governance (ESG) reports, Pfizer tracks how well it's performing as a global company in reducing its impact on the environment. Some of the 2021 highlights are:
7% reduction in certain greenhouse gasses (from 2019 baseline reading)
15% reduction in water withdrawal
13% reduction in hazardous and nonhazardous waste disposal (compared to 2020)
Named to World's Most Ethical Companies for 2022
Additionally, Pfizer has set goals for the company to reduce its impact on the environment by 2030 by becoming carbon neutral. These include:
Reducing emissions by 46%
Ensuring at least 80% of electricity is renewable by 2025, and 100% by 2030
Reducing transportation and distribution emissions by 25% and 10%, respectively, by 2025
Pfizer vs. Merck
One of Pfizer's biggest competitors is Merck. So, how does working at Pfizer compare to working at Merck?
On Glassdoor, both companies have an overall 4.1 out of 5-star rating. However, Merck ranks just above Pfizer on some individual ratings:
Culture and value (4.1 to 4.0)
Senior management (3.7 to 3.6)
CEO approval (90% to 88%)
Recommend to a friend (85% to 84%)
Positive business outlook (80% to 76%)
Pfizer and Merck have equal star ratings on DEI (4.2), compensation and benefits (4.0), and career opportunities (3.8). However, Pfizer does rank higher than Merck on work-life balance, at 3.9 to 3.8 stars.
It's also worth noting that according to Glassdoor, employees at Merck made, on average, $2,201 more than employees at Pfizer across the three most common job titles with a reported salary for the two companies.
How Does the Pfizer Interview Process Work?
While the specifics vary by role, Pfizer interviews follow the same general structure.
First, you'll have an informal interview with a recruiter to assess your qualifications and see if you're interested in moving forward. If the role is a good fit, you'll move to the next round.
At this stage, you'll meet with three to five team members, including the hiring manager. These interviews are either one-on-ones or panel interviews, but no matter the format, they are the same for all applicants. Some roles may also include a technical interview round.
>>MORE: Girls Who Code Technical Interview Prep Virtual Experience Program
Each interview will be approximately 45 minutes long and include a mix of behavioral and situational interview questions that are aligned with Pfizer's values of excellence, courage, equity, and joy.
Fortunately, Pfizer makes interview prep significantly easier on applicants. The company's website has some sample questions, along with an explanation of why interviewers ask that question and what they're hoping to hear. What's more, the sample questions are categorized by values, so you can get a better idea of what Pfizer is looking to hear for each.
Finally, Pfizer acknowledges that interviewing goes both ways. It knows that not only is the company evaluating you for the role, you are evaluating it as a company. Pfizer encourages applicants to ask whatever questions they need to throughout the hiring process.
Key Takeaways
Pfizer is one of the largest pharmaceutical companies in the world.
The company has a large variety of career opportunities across several job categories.
Pfizer is committed to improving diversity and equity in its ranks.
Pfizer is also committed to reducing its carbon footprint and impact on the environment.
The interview process includes a mix of questions that are generally aligned with the company's four core values.
Want to learn what it's like to work at other top companies? Check out our guides.
Image credit: MichaelVi / Depositphotos.com
The post Guide to Working at Pfizer appeared first on Forage.