When Should You Update Your LinkedIn Profile With a New Job? was originally published on uConnect External Content.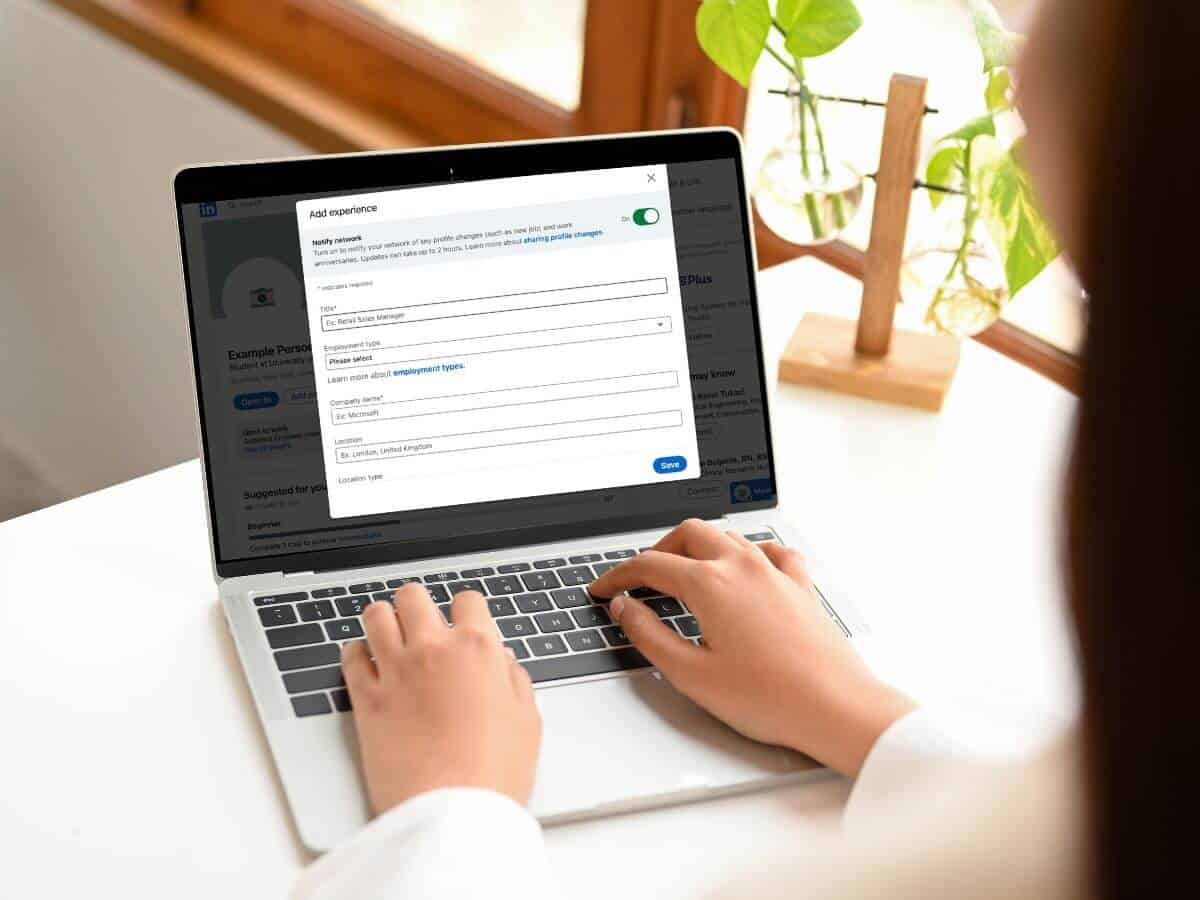 Congratulations, you've got a new job! Maybe you've already celebrated with your friends and family, but what about your professional network? When should you update your LinkedIn profile with a new job? Is there a right — or wrong — time?
Whether you're ready to write an emoji-filled LinkedIn post or would rather hide in the professional shadows, here are your top tips for why, how, and when to update your profile with your new title.
We'll cover:
When to Update Your LinkedIn Profile With a New Job
When should you update your LinkedIn profile with a new job? Our experts agreed — there isn't one perfect time to do it.
"While news of job acceptance is usually posted very quickly, there is no 'right time' to update a LinkedIn profile with the job details," Lisa Dupras, career coach at Elev8 Consulting, says. "Since the job seeker is now successfully employed, they often have less urgency to update their profile. Profiles are usually updated with new position details within a few weeks, but some users take their time. Some users don't bother to update their profiles with new positions at all."
However, there are some guidelines on general times to consider updating your profile.
Can You Update Your LinkedIn Too Early?
Unfortunately, you can update your profile too soon.
"It's too early if you got the offer and have yet to start," Mark Anthony Dyson, founder of The Voice of Job Seekers, says. "Dates and dynamics could change, and companies have rescinded offers after layoffs or hiring freezes. Timing is essential to you and your network."
>>MORE: Can You Ask About Layoffs in an Interview? Yes — Here's How
Instead, wait until you're settled into the role and have worked for at least a few weeks.
"At this point, you should be confident in your decision and not feel like you are going to move soon," says Andrew Fennell, former recruiter and director at StandOut CV, a resume and careers advice service.
Can You Update Your LinkedIn Too Late?
Generally, experts say it's never too late to update your profile. This is especially true if you're only updating your experience section and not making a separate announcement post.
However, most advise against waiting too long — think far beyond your probationary period (the first 90 days of your job), closer to a year after you've started.
"The longer you wait to update your profile, the less relevant your new job update becomes," Daniel Jorge, senior talent partner at EC1 Partners, says. "Additionally, if you wait too long to update your profile, it may be seen as a lack of attention to detail or a lack of commitment to your new job."
If you want to share that you've started a new job in the last year, but it's been over a few months, Fennell recommends making a reflective post rather than an announcement.
"You'll be able to angle the same post as a 'looking back at my first months in the industry or role,'" Fennell says. "At that stage, I wouldn't highlight you've never spoken about the role before. Just slide into the discussion naturally, and no one will notice."
Why Should You Update Your LinkedIn Profile With a New Job?
"Updating your LinkedIn profile with a new job can be the first step toward developing your own personal brand online," Fennell says. "It's an easy activity that says who you are, what industry you are a part of, and what you might be discussing over the coming year, acting as a reason people should follow you. For people early on in their careers, this can open your connections to people who might end up hiring them in a year or two."
>>MORE: Cultivate your online presence with Ashurst UK's Building Your Personal Brand Virtual Experience Program.
Even if you're excited about your new job and don't have any plans to leave soon, updating your profile is essential to keeping your personal brand strong. You never know when you might need your network or if there's a job you'll love that comes across your path.
"LinkedIn's all about the ever-changing algorithm and this does impact your online presence," Matthew Warzel, certified professional resume writer and former Fortune 500 recruiter, says. "By updating skills, jobs, certifications, etc, you are helping your profile stay 'active.' Active profiles will rank higher on recruiter searches in regular search mode, LinkedIn Navigator, and LinkedIn Recruiter."
Get noticed by top recruiters
Explore Forage's free virtual work experience programs.​
Even if you're not looking for a new role (especially if you just got one you like!), adding your job to your profile can help you build your network and be visible to recruiters when the time does come for another job search.
>>MORE: What Is Virtual Networking?
Adding a new job to your LinkedIn profile can help with your brand and visibility, but no one should ever require you to add a position.
"No employer can make you post your job in your experience section," Viveka von Rosen, LinkedIn subject matter expert and co-founder and chief visibility officer of Vengreso, says. "Your LinkedIn profile belongs to you. The end user agreement says so!"
How to Update Your LinkedIn Profile With a New Job
Now you know why you should update your LinkedIn profile and when. But how do you do it? Should you make a post declaring this update to the world?
Check With Your New Company
First, look at your company's social media policy, Dyson warns.
"Some companies frown on or discourage the use of social media. It's great if your new company and employees are active on it. If many employees do not list the company page on their profile, there might be a good reason."
After you've done your due diligence with the company handbook, if you can share an update, you can look to your coworkers for help.
"You might reach out to your new company's marketing team and see if they have any onboarding materials to help you with your LinkedIn profile, like background images, company or experience description templates, or other media etc.," von Rosen says. "Many companies are now including LinkedIn templates in their onboarding materials."
For example, the company might have LinkedIn headers you can include in your profile or example language you can include if you're going to make a post.
Add the Job to Your Experience Section
To add a job to your experience section, click the "add profile section" if this is the first position you're adding. If this is not the first position, scroll to your experience section and click the plus sign.
Either way, you'll be prompted to fill in multiple sections about this new job, including:
Title: Your job title.
Employment type (not required): Choose from various options like full-time, part-time, freelance, internship, or apprenticeship.
Company name: If the company has a LinkedIn page, you can select it from the drop-down menu and it will link to the page on your profile.
Location (not required): This is where you're working from. If you're remote, you can fill in where you're based.
Location type (not required): Choose between remote, hybrid, or in-person.
Start and end date: Add the month and year of your employment. If you're currently working in the role and check that box, you don't need to add an end date.
Industry: You must select an industry from LinkedIn's industry drop-down menu. Pick the industry that best fits your role, as other people from that industry will be more likely to find you!
Description (not required): You can add a quick summary of your role, context about the company, or a couple of bullet points about your main projects or accomplishments.
Profile headline: The title that appears under your name on your profile. Typically, this reflects your current position or a title that summarizes your career.
Skills (not required): Hard and soft skills you use in this role. These also appear in your skills section.
Media (not required): Link any external documents related to this job. For example, if you're a journalist, you can add links to some of your top pieces here.
>>MORE: Updating Your Profile on LinkedIn: Skills You Should (and Shouldn't) Add
Make a Post (If You Want!)
After filling out all the required sections, LinkedIn will ask you if you want to share this position with your network. This means a post will appear on your profile announcing the new role.
There's no requirement to make a post when adding a new job to your profile. However, creating one is an opportunity to show your network what you're working on, make new connections, and even thank the people who helped you get to this point.
"It's important to keep the post professional, brief and to the point and show excitement, shout out your network, include relevant information about your new job and communicate your personal brand," Jorge says.
LinkedIn will give you a sample post that you can edit. Besides the text and the post image, you can also adjust who can see the post and who can comment.
Updating Your LI Profile With a New Job: The Bottom Line
When should you update your LinkedIn profile with a new job? Experts agree the best time is when you're settled into the role, usually a few weeks after your start date. You don't want to post before you know the job is a good fit.
Updating your profile when you get a new job ensures you keep your personal brand accurate and up to date while keeping your LinkedIn visible and active.
"Your LinkedIn profile should always be a work-in-process, always ready to optimally communicate your skills and abilities," Dupras says. "You never know when new opportunities will arise."
Boost your workplace skills with Forage's personal development virtual experience programs.
Image credit: Canva
The post When Should You Update Your LinkedIn Profile With a New Job? appeared first on Forage.